Warning: include_once(/home/ww4/public_html/componants/left_menu.php): failed to open stream: No such file or directory in /var/www/vhosts/hedgeco/scripts/main_menu.php on line 5

Warning: include_once(): Failed opening '/home/ww4/public_html/componants/left_menu.php' for inclusion (include_path='/var/www/vhosts/hedgeco/vendor/pear/archive_tar:/var/www/vhosts/hedgeco/vendor/pear/console_getopt:/var/www/vhosts/hedgeco/vendor/pear/pear:/var/www/vhosts/hedgeco/vendor/pear/structures_graph:/var/www/vhosts/hedgeco/vendor/pear/xml_util:.:/usr/share/pear:/usr/share/php') in /var/www/vhosts/hedgeco/scripts/main_menu.php on line 5



Hedge Fund Tools'
mission is to provide you with a start up hedge fund process that is efficient, cost effective and comprehensive. Our team of highly experienced hedge fund experts has spent years working hand in hand with over 6500 new and existing hedge fund managers and over 25,000 hedge fund investors. Our expert team also appears on CNBC regularly, and has been sourced in over 200 of the top world news and financial publications around the world.
Our consulting service is unique in that we advise you on the proper providers for your fund, as well as the proper services. Through prime brokerage introductions, we assemble the best team of professionals for your hedge fund, enabling you to market to a high net worth audience as well as to some of the largest institutions in the world.
Visit HedgeFundTools.com Today!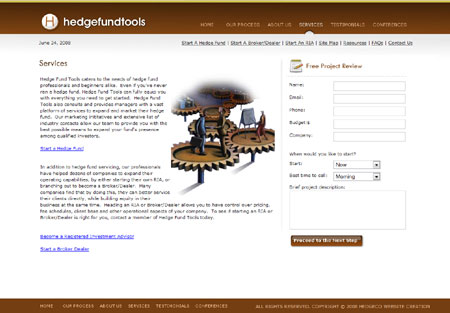 Testimonials

"We are extremely pleased with all the help we have received from the HFT Expert Team. They helped us with every aspect of setting up our hedge fund. In one of our early conversations with them, HFT told me that when they are done getting us set up we will look like a billion dollar fund. They have delivered, and we are now in the process of setting up three additional funds with the help of HFT and the HedgeCo Network!"
Brian Toelle, Managing Director
Hardel Capital
www.hardelcapital.com

"With the help of Hedge Fund Tools, I was able to switch prime brokers with ease and launch my hedge fund. Evan was very knowledgeable on the subject and took the time to get to know me and my business."
Michael Weissman, Managing Director
Full Steam Capital Management LLC